What are the benefits of SharePoint Syntex?
Ovatio Technologies' SharePoint Consulting Services enables you to:
Automate the capture of expertise to classify and extract information and automatically apply metadata.
Build no-code AI models that teach the cloud to read content the way you do.
Find key facts in your content to improve search and teamwork.
Automate the capture, ingestion, and categorization of content and streamline content-centric processes.
Use advanced AI in SharePoint Syntex to capture and tag structured and unstructured content.
Streamline content processes using Power Automate to build workflows that leverage extracted metadata.
Connect and manage content to improve security and compliance.
Integrate SharePoint Syntex content across systems inside and outside Microsoft 365.
Protect and manage content with compliance policies with automatically applied sensitivity and retention labels.
Why Ovatio Technologies for your SharePoint Syntex solution?
Trusted by Microsoft, we are 1 of only 75 Worldwide Content Services Partners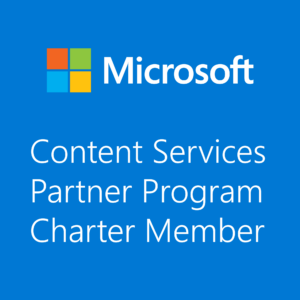 Have questions about SharePoint Syntex?