Power BI can be simple and fast – capable of creating quick insights from an Excel spreadsheet or a local database. But Power BI is also robust and enterprise-grade, ready for extensive modeling and real-time analytics, as well as custom development. So it can be your personal report and visualization tool. It can also serve as the analytics and decision engine for group projects, divisions, or entire corporations.
Power BI consists of a Windows desktop application called Power BI Desktop, an online SaaS (Software as a Service) service called the Power BI service, and Power BI mobile apps for Windows, iOS, and Android devices.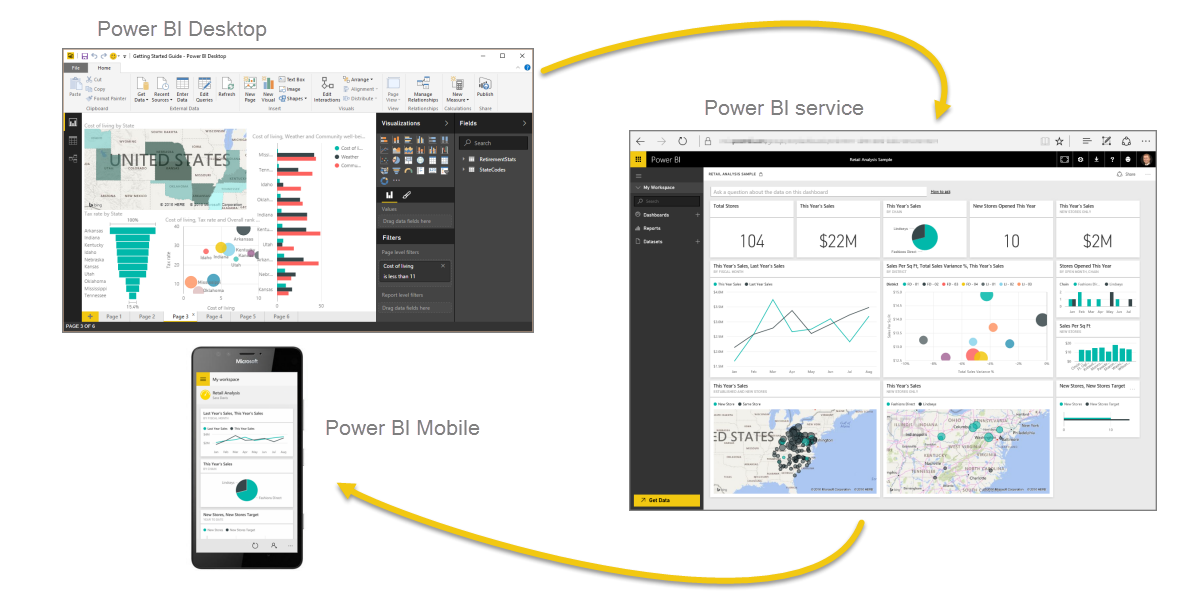 These three elements – Power BI Desktop, the service, and mobile apps – are designed to let people create, share, and consume business insights in the way that serves them, or their role, most effectively. A fourth element, Power BI Report Server, allows you to publish Power BI reports to an on-premises report server, after creating them in Power BI Desktop.
The Flow of Work in Power BI
A common flow of work in Power BI begins by connecting to data sources and building a report in Power BI Desktop. You then publish that report from Power BI Desktop to the Power BI service and share it so end-users in the service and mobile devices can view and interact with the report. This workflow is common and shows how the three main Power BI elements complement one another. But what if you're not ready to move to the cloud, and want to keep your reports behind a corporate firewall? Read on.
On-Premise Reporting with Power BI Report Server
Create, deploy, and manage Power BI, mobile and paginated reports on-premises with the range of ready-to-use tools and services that Power BI Report Server provides. Power BI Report Server is a solution that you deploy behind your firewall and then deliver your reports to the right users in different ways, whether that's viewing them in a web browser, on a mobile device, or as an email. And because Power BI Report Server is compatible with Power BI in the cloud, you can move to the cloud when you're ready.
Take advantage of all Power BI offers today