What is SharePoint Syntex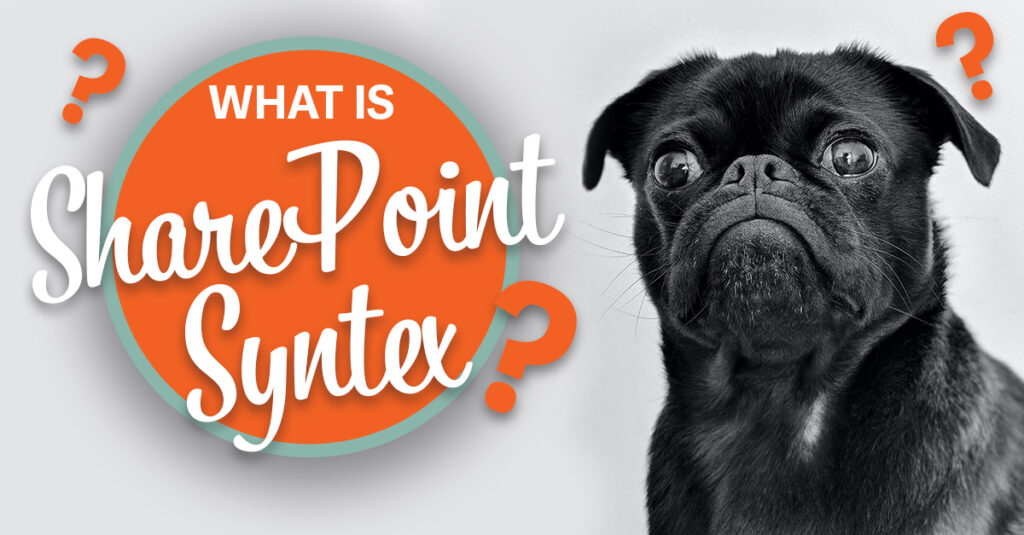 What is SharePoint Syntex?
Microsoft Syntex is a Microsoft 365 content service that uses machine teaching (Yes, that's a real thing but more on that topic in a minute!) and AI to optimally organize and safely store your content based on what you want SharePoint to automatically and intelligently understand, extract, protect, classify, and process with automation. It applies to structured documents like forms, and unstructured documents like contracts and resumes.
SharePoint Syntex's purpose is to present the people in your organization with the right access to the right information at the right time using secure and hyper-efficient automation of content understanding, organization, and classification.
How is SharePoint Syntex helping businesses?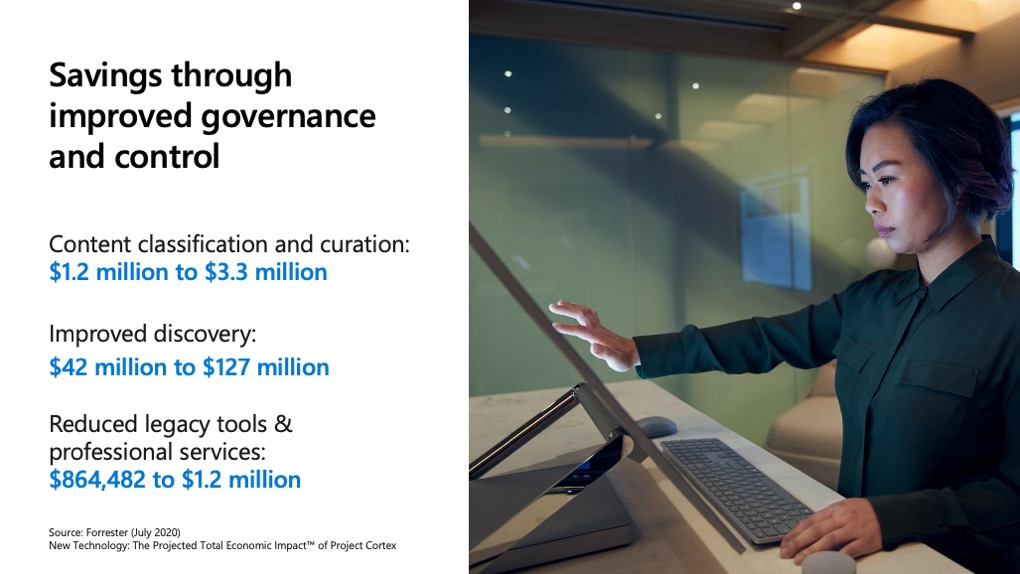 Microsoft Syntex saves you money.
I know you have them – ancient SharePoint server relics. You're not really sure what's contained in those puppies. And, quite frankly, you have NO time or desire to allocate resources to comb through the company's SharePoint library of antiquities. You could ditch it but what if there are documents with sensitive materials? What if there is information you need to recall? Nah, best to just leave them there and continue paying SharePoint storage forever (insert the echo of 'ever,' 'ever,' 'ever').
While I love and admire historic artifacts, you don't need to keep all of that information in perpetuity. Using SharePoint Syntex, you can identify the items you want to keep and apply that logic across both newly-created AND legacy SharePoint documents. This means you can easily identify the documents you want, make a plan for those you don't, and eliminate the need to continuously pay for giant terabytes of data.
Microsoft Syntex enables you to automate document retention and sensitivity labeling.
These labels can be quickly identified and intelligently applied across structured and unstructured documents; setting Data Loss Prevention (DLP), encryption, sharing, conditional access, and record policies. For example, by simply identifying and applying a PII sensitivity label to just one record of a claim document, you can teach Syntex to apply that same label to ALL the documents of the same claim. Syntex quickly scales the finding and automation of label applications.
Microsoft Syntex vastly reduces the time lost to hunting and pecking for information.
One of my greatest productivity peeves is jumping in and out of systems and windows; this Frankenstein-like contexting switching saps my ability to focus. This is especially true given their individual nuances such as: how differently they operate, look, and feel. An action as simple as saving a change in one application is entirely different from another. (I'm looking at you, tiny 'save' disk icon. Why must you plague me with your ever-changing locations?) These nuances are one of the leading reasons why the more we can simplify daily work using a limited hub of interfaces like Microsoft Teams and SharePoint, the better.
Syntex's ability to understand, process, and govern content enables your critical information to be found and leveraged with far greater accuracy and efficiency inside of the Teams and SharePoint applications – where a majority of people collaborate with their teams, partners, and outside resources on documents, shared chats, and meetings. 
Microsoft Syntex using Machine Teaching to achieve the automation of accurate and scalable tagging, reducing errors and workload.
As promised, this is where I explain a bit more about Machine Teaching.
Historically, creating and applying metadata to each and every document has been a very labor-intensive and error-prone process. Microsoft has built SharePoint Syntex to leverage machine teaching – a more evolved AI that enables the subject matter experts in your organization to "teach" Syntex the tagging rules through the use of a small content sample set. This set is essentially the golden record for Syntex to understand how to identify the same content and apply your tags. The automated tagging process makes it possible to build expedited content understanding using your natural content management flow.
Microsoft Syntex empowers you to create a modern workplace employee experience.
A company's ability to offer the hybrid work environment, once a nice-to-have is now a you-must-have option. The I-can-work-anywhere genie is out of the bottle and you can't put it back! While most of us mastered the intricacies of hosting video calls quickly, collaborating and working efficiently with documents has proven to be challenging. Information may not be as easy to find, especially when stored on legacy systems inaccessible from home, brewing frustration. People want to perform their job well from anywhere and not find themselves burning out and working longer hours because they couldn't access information at a given time or needed to wait for technical support for access.
Using SharePoint Syntex, you can optimally apply content understanding and governance with extraordinary precision across both legacy and newly-created structured and unstructured data. This ability directly contributes to and impacts how each person works daily. Not only will it save time, but it will give your teams the working environment they need to feel supported in their job. Happy employees equal stability.
How does SharePoint Syntex work?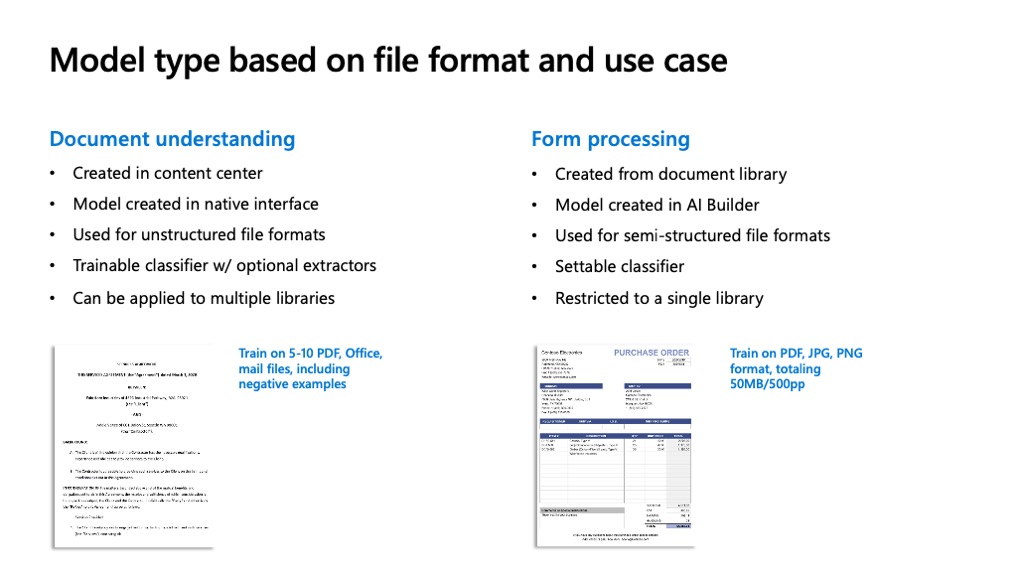 SharePoint Syntex is powered by the creation of content understanding models that automatically classify documents that are hosted in your SharePoint libraries. Using Machine Teaching you "teach" the models using example files of the data you want to extract from documents and then display that information in columns in document libraries. Using other applications such as Power Automate, you can customize the solution to perform desired activities, such as notifying your legal department when contracts have upcoming renewal dates.
Syntex offers two different training models: form processing and document understanding.
Use Form Processing models if you need to process structured or semi-structured documents, such as forms where the information is typically in the same location in the document. The Form model uses AI builder, a Power Platform capability designed to similarly automate metadata extraction. With AI builder, you create and train a model to extract information, Syntex then lets you reference that model with a Power Automate flow and run it on files tied to a specific library whenever files are uploaded.
Use Document Understanding models to process unstructured documents where the information is contained in blocks of text, for example, a statement of work. Document Understanding uses Machine Teaching to help you "teach" your model how to classify and extract your documents by using a small "teaching" set of files.
How much does SharePoint Syntex cost?
To use SharePoint Syntex, your business must have a subscription to Syntex, and each Syntex user must have their own license. It is available only to customers currently licensed for Microsoft 365 F1, F3, E3, A3, E5, A5, Office 365 F3, E1, A1, E3, A3, E5, A5, Microsoft 365 Business Basic, Business Standard, Business Premium, or SharePoint Online K, Plan 1, or Plan 2. The cost of SharePoint Syntex is $5 (US) per user/per month with an annual commitment.
The cost of running document understanding models is included in the cost of a SharePoint Syntex license. However, form processing models use AI Builder capacity, for both training and runtime processing. Capacity must be allocated to the Power Apps environment where you will use AI Builder. You can estimate the AI Builder capacity that's right for you with the AI Builder calculator.
Sign up to receive Ovatio Insights
 Get the latest tips and insider knowledge about Microsoft's content and data services.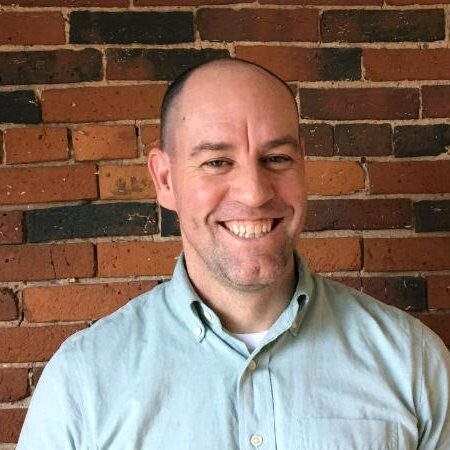 Chuck Salvo is the Chief Digital Information Officer at Ovatio Technologies. He has been helping middle-market and enterprise businesses better leverage their data and improve business processes with Microsoft services and solutions for over 20 years. When not working, you can typically find him perfecting his golf game!